Our history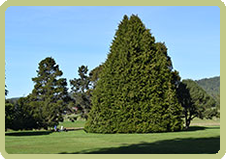 In early 1929, a few local businessmen discussed the feasibility of a golf course in the area. In June of 1930 the Redwood Empire Golf and Country Club was open for play. The course featured nine holes designed by architect Donald MacPherson. Due to economic hardship and the inability of the Club to repay a $9,000 loan from the Fortuna State Bank, The Redwood Empire Golf and Country Club entered into bankruptcy and closed in 1936.

The property returned to farmland for 18 years until another group of gentleman decided to give the course one more try. The Redwood Empire Golf and Country Club was born again in 1956. The course was made possible through the formation of the Van Duzen Land and Development Company Corporation. Shares of stock were sold to finance the purchase of the present and the development of the course.

The nine-hole golf course encompassed approximately 45 of the 113 acres owned by the shareholders. The original clubhouse was located near the existing 18th tee. However, in 1958 the clubhouse was moved to its present location. Disaster struck in December of 1966 when the clubhouse was destroyed by a tragic fire. In January of 1967 the present pro-shop and locker rooms were built. At this time, a temporary building was moved on to the property to serve as a coffee shop and meeting place. Construction of a new clubhouse took place on Sunday, September 16, 1973.

In 1996, construction began to add nine holes and make the Redwood Empire Golf and Country Club and 18 hole championship golf course. With the work of mainly volunteers, the dream of an 18-hole facility became a reality in September of 2000. Our marvelous facility offers a challenging 18-hole golf course that is known for its fine condition and fast undulating greens.
golf pro
Greg Senestraro – Class A PGA Golf Professional
Grew up playing at Redwood Empire as a Junior Golfer
Graduated from Fortuna High School in 1986
Graduated from California State University, Sacramento in 1992
Member of the PGA of America since 1996
Two children Taylor and Mason
Rules of golf
The USGA, in conjunction with The R&A in St. Andrews, Scotland, writes, interprets and maintains the Rules of Golf to guard the tradition and integrity of the game. The two organizations are joint authors and owners of The Rules of Golf and Decisions on the Rules of Golf. Through an agreement with The R&A, the Rules jurisdiction of the USGA includes only the United States, its possessions and Mexico. The latest version went into effect Jan. 1, 2012, with the next revision taking effect Jan. 1, 2016.